Are you looking for a reliable car shipping company that can offer you a comprehensive range of car transport services? You can come to the right place!
BKK Transport is one of Chicago's leading car shipping companies, offering premium quality and comprehensive car transport services. We believe in delivering first-rate car shipping services to our customers. We provide you with the safest, affordable, and premium quality car shipping to/from Chicago or anywhere in the U.S. Having years of experience shipping multiple cars to/from Chicago, you can rely on us for safe, damage-free, and timely transportation. Our fully qualified team of drivers has years of experience transporting different cars, including luxury and classic cars. We strive to achieve swift turnaround times on our car shipping service. Whether you require our car shipping service across town or somewhere within the United States, our equipment configurations will deliver your car safely to the destined location.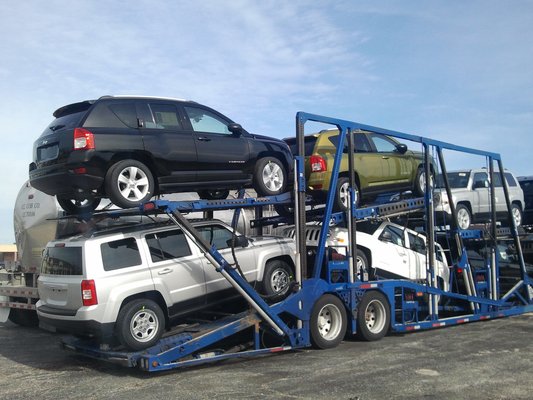 For more information on our car shipping services or to make a booking, call us on (888) 666-2202 or fill our Free instant Car transport Quote to find out and receive more information about our auto transport services.

Shipping Luxury and Classic Cars in Chicago
Luxury and classic car shipping require utmost care and handling. Therefore, you need to choose an experienced, professional, and reliable car shipping company.
If you are worried about the safety of shipping your classic or luxury car, then BKK Transport is at your service. Our enclosed carrier transportation service prevents external elements like rain, sunlight, or roadside debris from reaching your prized possession.
Our professional transporters have years of experience in shipping luxury and classic cars. We provide you timely notifications and keep you up to date with the condition.
Get free car shipping bids by filling in the details on our online car shipping calculator or call one of our vehicle shipping experts at 888-666-2202.
What To Look For in Car Transportation Companies?
When searching for a car transportation company, always keep the following factors in mind:
A Licensed, Insured, and U.S. Registered Company
A licensed and U.S.-registered transportation company will ensure you a safe and damage-less vehicle delivery. Choosing such transportation companies can offer you peace of mind and make things easier for you.
Choose a Larger Car Transport Company
Larger car transport companies serve you from end-to-end - from providing a free quote to safe delivery.
Check Online Reviews
The best car transport company will be on popular review websites like BBB, TransportRankings, and TransportReviews.
BBK Transport is A+ rated and a member of BBB (Better Business Bureau). Additionally, we are among the top 5 Star Rated in transportrankings.com and transportreviews.com. We are also a fully insured, licensed, and bonded car transportation company in Chicago.
Call us on 888-666-2202 to book your car shipping.
Common FAQs
How Much Should It Cost To Ship a Car?
The cost of transporting a car depends on various factors such as location to/from, distance, type of carrier option, type of car, fuel price, and more. However, the expected car transport cost can vary from about $200 to $1800, for short cross-state transports and longer cross-country transports respectively.
You can always use our online car shipping calculator to obtain a free instant car transport quote.